Product Summary
The TL431BVDR2G integrated circuit is a three-terminal programmable shunt regulator diode. The monolithic IC voltage reference operates as a low temperature coefficient zener which is programmable from Vref to 36 V with two external resistors. The TL431BVDR2G exhibits a wide operating current range of 1.0 mA to 100 mA with a typical dynamic impedance of 0.22 Ω. The characteristics of the reference make them excellent replacements for zener diodes in many applications such as digital voltmeters, power supplies, and op amp circuitry. The 2.5 V reference makes the TL431BVDR2G convenient to obtain a stable reference from 5.0 V logic supplies, and since the device operates as a shunt regulator, it can be used as either a positive or negative voltage reference.
Parametrics
TL431BVDR2G absolute maximum ratings: (1)Cathode to Anode Voltage: 37 V; (2)Cathode Current Range, Continuous: –100 to +150 mA; (3)Reference Input Current Range, Continuous: –0.05 to +10 mA; (4)Operating Junction Temperature: 150 ℃; (5)Operating Ambient Temperature Range: -40 to 85 ℃; (6)Storage Temperature Range: –65 to +150 ℃; (7)Total Power Dissipation @ TA = 25℃: 0.70 W; (8)Total Power Dissipation @ TC = 25℃: 1.5 W.

Features
TL431BVDR2G features: (1)Programmable Output Voltage to 36 V; (2)Voltage Reference Tolerance: ±0.4%, Typ @ 25℃; (3)Low Dynamic Output Impedance, 0.22 Ω Typical; (4)Sink Current Capability of 1.0 mA to 100 mA; (5)Equivalent Full-Range Temperature Coefficient of 50 ppm/℃ Typical; (6)Temperature Compensated for Operation over Full Rated Operating Temperature Range; (7)Low Output Noise Voltage; (8)Pb-Free Packages are Available.

Diagrams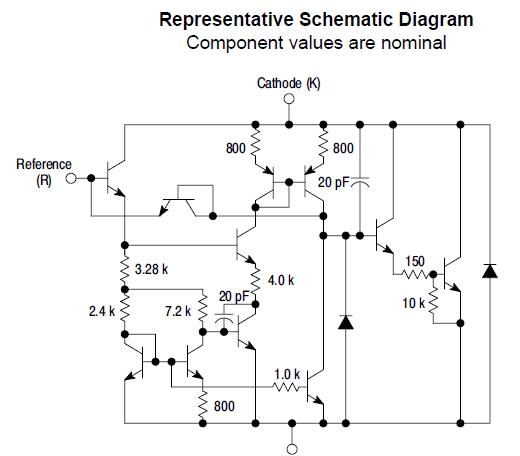 Image
Part No
Mfg
Description
Pricing
(USD)
Quantity

TL431BVDR2G

ON Semiconductor

Voltage & Current References 2.5-36V ADJ 1-100mA

Data Sheet



| | |
| --- | --- |
| 0-1: | $0.39 |
| 1-25: | $0.31 |
| 25-100: | $0.26 |
| 100-500: | $0.20 |

Image
Part No
Mfg
Description
Pricing
(USD)
Quantity

TL431ACDCKT

Texas Instruments

Voltage & Current References Adjustable Precision Shunt Regulator

Data Sheet



| | |
| --- | --- |
| 0-1: | $0.47 |
| 1-25: | $0.37 |
| 25-100: | $0.33 |
| 100-250: | $0.29 |


TL431BCDBZT

Texas Instruments

Voltage & Current References Adjustable Precision Shunt Regulator

Data Sheet



| | |
| --- | --- |
| 0-1: | $0.61 |
| 1-25: | $0.49 |
| 25-100: | $0.43 |
| 100-250: | $0.36 |


TL431ACDR

Texas Instruments

Voltage & Current References Adj Shunt

Data Sheet



| | |
| --- | --- |
| 0-1: | $0.27 |
| 1-25: | $0.17 |
| 25-100: | $0.15 |
| 100-250: | $0.12 |


TL431ACDBZR

Texas Instruments

Voltage & Current References Adjustable Precision Shunt Regulator

Data Sheet



| | |
| --- | --- |
| 0-1: | $0.29 |
| 1-25: | $0.19 |
| 25-100: | $0.16 |
| 100-250: | $0.13 |


TL431ACDBVRG4

Texas Instruments

Voltage & Current References Adjustable Precision Shunt Regulator

Data Sheet



| | |
| --- | --- |
| 0-1: | $0.28 |
| 1-25: | $0.18 |
| 25-100: | $0.15 |
| 100-250: | $0.12 |


TL431ACDBZRG4

Texas Instruments

Voltage & Current References Adjustable Precision Shunt Regulator

Data Sheet



| | |
| --- | --- |
| 0-1: | $0.31 |
| 1-25: | $0.20 |
| 25-100: | $0.17 |
| 100-250: | $0.14 |